New build plot – waterproofing with HydroBond 2K-Flex and Newton 410 Geo-Drain protection
The Damptec team are working on a new build site in Nottinghamshire requiring a combined Type A and Type C waterproofing system to provide barrier and drained protection to conform to the requirements of BS 8102:2009.
The photo shows Geo-Drain Quattro applied over the primary external waterproofing membrane on the external walls.
Warranty providers such as NHBC, Premier Guarantees and LABC insist on the installation of combined protection as a fundamental condition of their warranty. They also require that a CSSW qualified waterproofing design specialist be involved at the design stage. All materials used carry a BBA certificate which is necessary to satisfy the requirements of third party building warranty providers.
External:  Type A Barrier protection external waterproofing including:
Application of primer to all surfaces in a spray coat application.
HydroBond 2K-Flex post applied to external earth retaining walls to lap onto the HydroBond 403 Plus.
Installation of Newton 410 Geo-Drain Quattro with geo-textile filter sheet over the primary external waterproofing membrane.
Internal: Type C (Drained) protection
Secondary protection, which manages any water ingress which occurs as a consequence of an installation defect, is provided by a cavity drain membrane system.
Walls:  Mechanically fix Newton 508 (8mm) membrane to the internal side of the external cavity taped into the wide DPC at the beam and block junction.
 DPM is taped to Newton floor membrane with Newton Waterseal Tape.
Proprietary weep holes at the mortar joints are required to allow drainage.
Delta DualProof Membrane Installed as First Phase of New Build Basement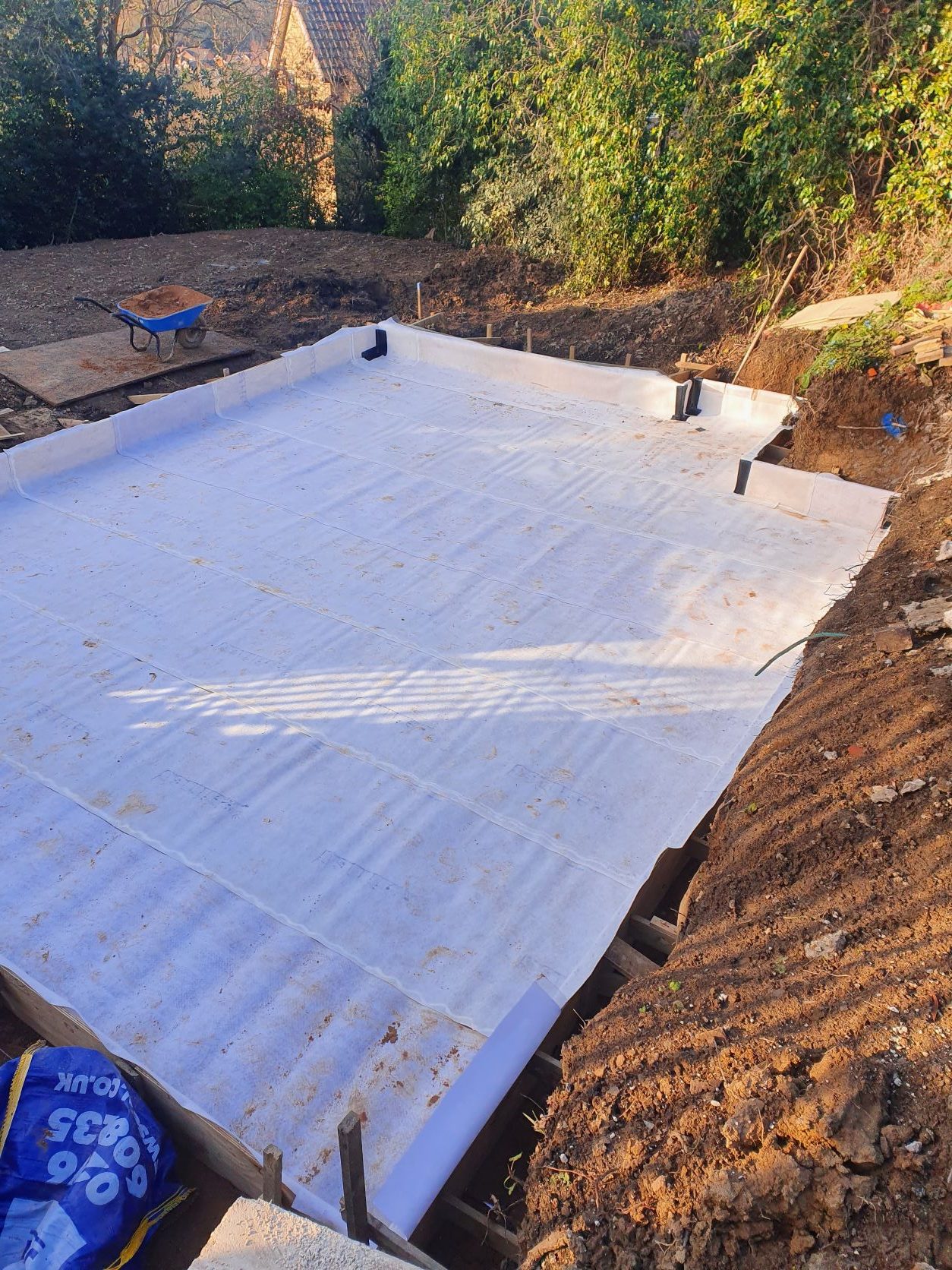 We have been contracted to provide the structural waterproofing strategy for a new build lower ground floor in Sheffield.  The waterproofing solution determined is defined in BS 8102 2009 Protection of Structures against Water from the Ground as a "Grade 3" environment where no dampness is permitted and where the internal environment needs to be managed using appropriate environmental controls.
Work to date by Damptec Systems Ltd has included
Preparation of the blinding sub base and shuttering around the perimeter ready for the application of the Delta DualProof membrane
Building first course of internal blockwork using a load bearing engineering brick/concrete upstand
One course of engineering bricks to create a threshold at the rear of the property i.e. south elevation
Application of the Delta DualProof over the sub site with an upturn over the shuttering.
Once the main contractor has cast the main concrete slab, Damptec will return to install the Waterproofing Type A and Type C Systems
Sheffield
South Yorkshire
New build Structural Waterproofing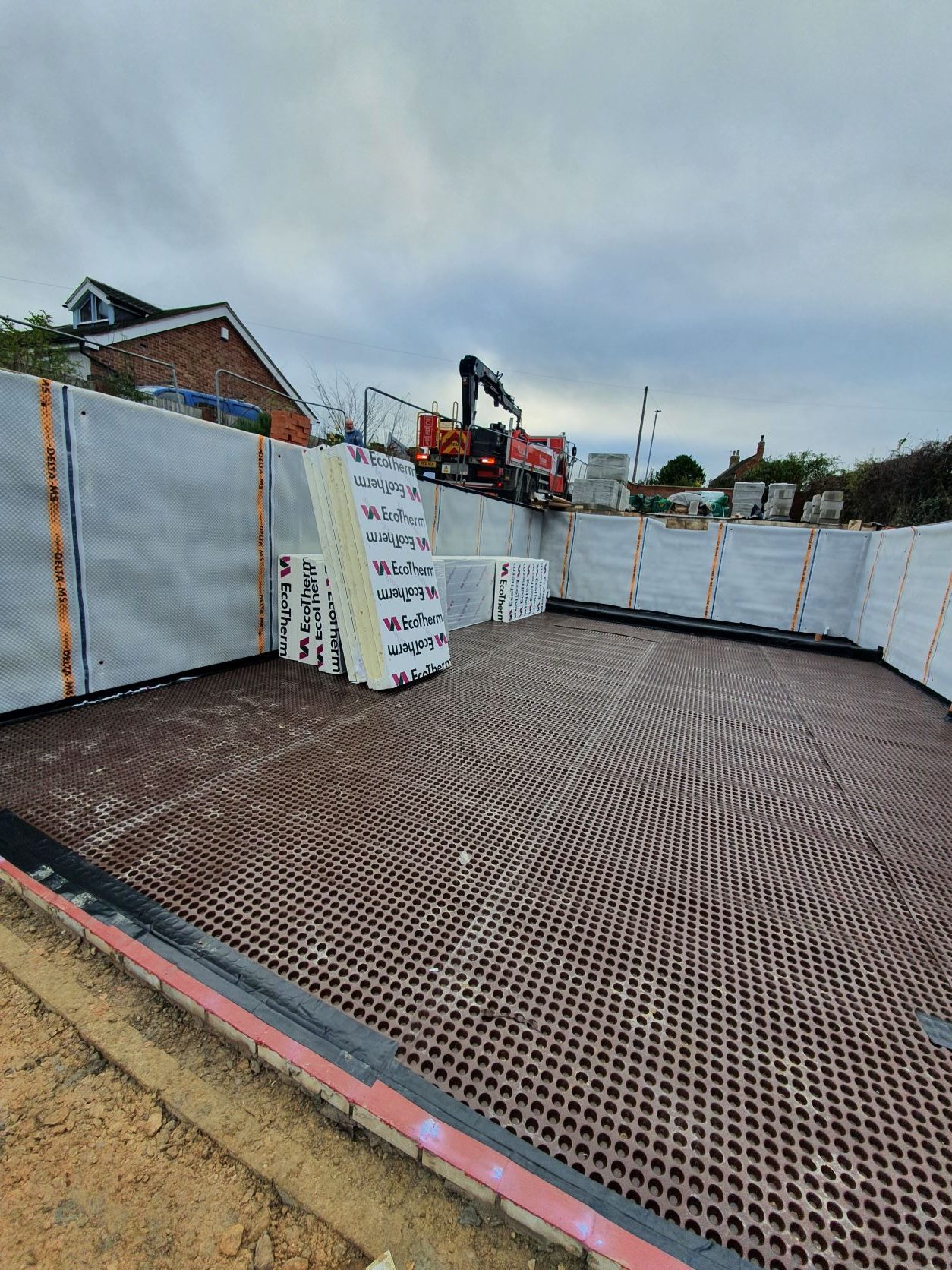 The Damptec technicians finished the waterproofing work at our latest new build project (pictured) on 24th November 2021.  Major third party warranty providers such as NHBC, Premier Guarantees and LABC require the installation of combined protection as a fundamental condition of their warranty. They also require that a CSSW qualified waterproofing design specialist be involved at the design stage. We provided the design and specification for the combined Type A and Type B combined waterproofing protection system for this project as required under BS 8102.
Gravity Drainage was installed in a pre-cast chase formed in the concrete. The drainage channel runs through the adjoining retaining walls at the wall/floor junction.  As this will need to be maintained we added jetting eyes at changes in direction and also at intervals along straight runs.
The Type A system incorporated barrier protection on the internal walls and floor using Koster Polysil TG500 to minimise the development of salt efflorescence and free lime egress and two coats of Koster NG1 which is a mineral waterproof coating containing crystallising and capillary-plugging agents.
Type C secondary protection was achieved using Delta MS500 (8mm) cavity drain membrane. The new concrete slab was waterproofed by applying Delta MS20 20mm floor membrane. MS20 membrane was used in conjunction with cornerstrip and linked into the 600mm wide DPC.  The membrane was then covered with rigid insulation and 75mm of cement based screed.
All joints where flanged sections were located were sealed with waterseal tape. Where studded sections met, waterseal rope was applied.  Where services (pipework etc.) protruded through the system at the time of installation a seal was created using either waterseal mastic.
We are registered Delta installers.  Delta provides the world's foremost range of products for basement drainage, structural waterproofing and underground wall and floor protection. Depending on the variables associated with a property such as conditions, amount of damp/water ingress, size of area required for waterproofing, Damptec Basement Systems will supply and competently install the required products including waterproofing membrane and drainage systems.
Nottingham
Ground gas protection with waterproofing continuity
The Damptec team have recently completed work on a new build property in Barnsley pictured above. The property required waterproofing continuity combined with radon barrier protection and the work was carried out in accordance with BS 8485:2015 detailing the requirements for gas protection and BS8102:2009 for the protection of structures against water from the ground.
A dual waterproofing system was applied incorporating Type A and Type C systems to meet the NHBC requirements for a warranty. Delta Deuxan 2C Water Proofing Solution was applied to waterproof the external face of the walls. Koster NB1, a crystallizing cementitious slurry was used to waterproof the internal surface of the walls. Delta geo-drain membrane was added to protect the Deuxan. Above ground a MemTech PRO R1 radon gas barrier was installed, as seen in the photo above, which will eventually lie beneath the concrete slab. This is a three layer low density polyethylene membrane reinforced with a polypropylene grid. A Delta vented mat was placed beneath the radon barrier to provide ventilation beneath the concrete slab.
In line with the requirements of BS 8485:2015 the completed system underwent third party verification and integrity testing. This was carried out by independent consultants Membrane Testing Solutions who provided a certificate of conformance.
Barnsley
South Yorkshire
Cellar conversion to study, utility and toilet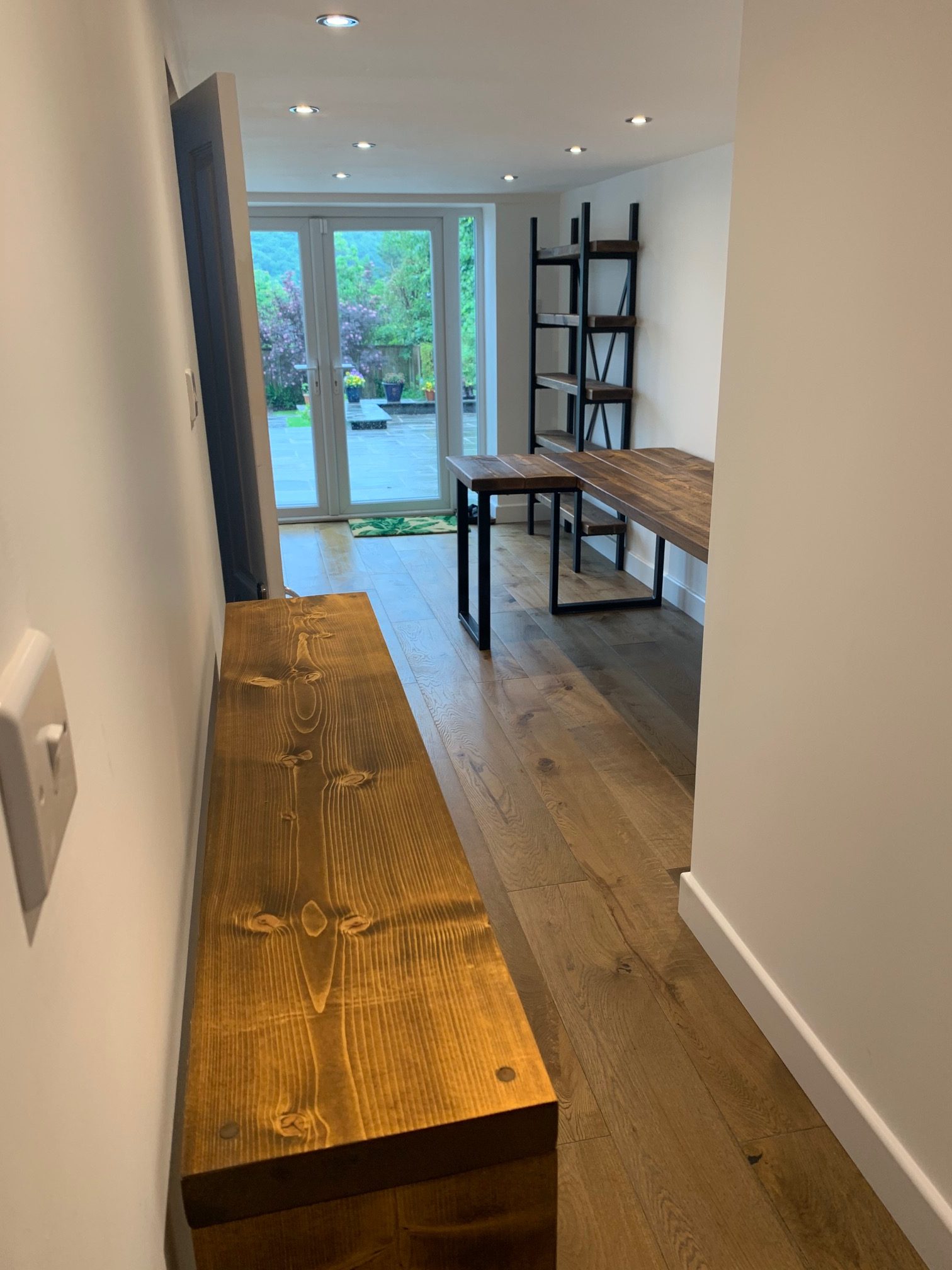 Our clients in Sheffield wanted to convert their cellar space into a study, utility and toilet.  We recommended a Type C Cavity Drained Protection System including the following specifications:
Drainage channel on the perimeter floor leading to a point of removal via a gravity system.
Application of 8mm membrane to external walls and 8mm mesh membrane on the internal walls
Metal studwork and galvanized dry lining system including  thermal insulation on the external walls.
Membrane applied to the stairs.
All walls to have a plaster finish.
Floor finish to include a membrane and an 18mm Weyroc Protect (chipboard) float floor
Our clients were delighted with the results and kindly sent us photos of the finished product
Sheffield
South Yorkshire
Woodworm treatment
Our client in Stoney Middleton owned a stone cottage where a woodworm infestation in the form of common furniture beetle (Anobium punctatum) was discovered. On arrival on site site we vacuumed the treatment area to remove debris and dust to allow full access to the timbers and limit dust borne contamination.
The exposed timbers were then sprayed on all sides with a permethrin-based micro-emulsion wood preservative concentrate. Warning cards were left on site to ensure no one assessed the treated areas for 1 hour in line with the manufacturers instructions. The treatment comes with our 10 year guarantee.
Buried Roofs and Podium Decks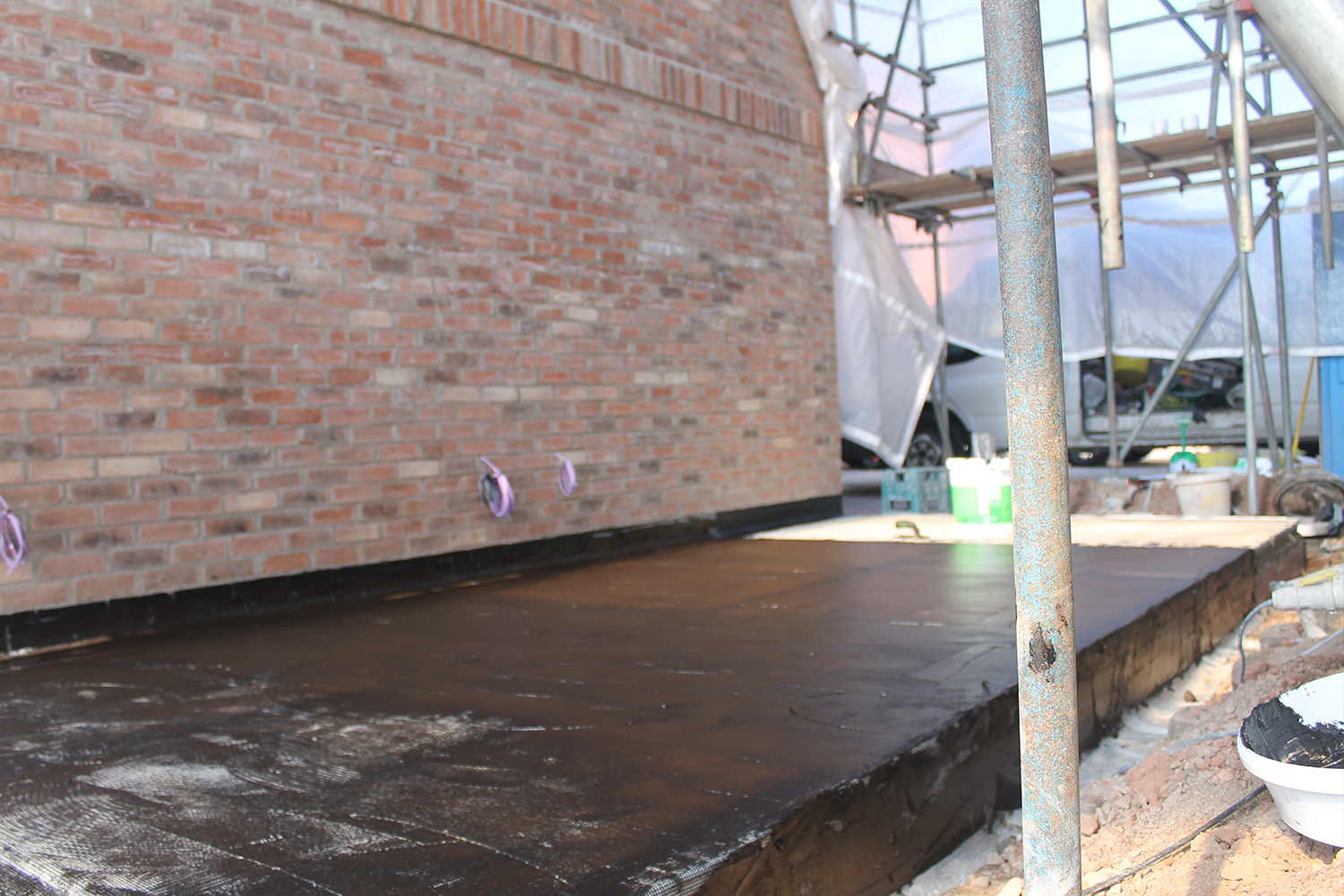 We were contacted by a building contractor carrying out construction work on a property in Leicestershire. Work had come to a standstill whilst they sought specialist help to determine a viable waterproofing solution for the driveway above the basement to ensure a dry environment for the rooms below. 
We recommended a Type A barrier protection method.   Damptec Systems Ltd are certified as registered installers for Koster Waterproofing systems which specialises in high quality structural waterproofing products and systems.
Working closely with our supplier Delta Membrane Systems we produced the following specification:
Application of a primer to all surfaces in a spray coat application
Application of two coats of polymer modified thick bitumen compound.
Installation of glass fibre mesh
Application of a second coat of bitumen.
Internal angles filleted before the application Deuxan-2C
Fibre glass mesh pushed into the first coat and over any joints.
Installation of Koster KSK membrane on top of the Deuxan 2c sealing the membrane joints with KBE liquid film.
Application of Delta-GeoDrain Quattro to horizontal surfaces with joints overlapped and sealed.
The work came with our 10 year guarantee and was completed in three days to the full satisfaction of our clients who were then able to carry on with construction work at this property.
New Build Basement Garage Design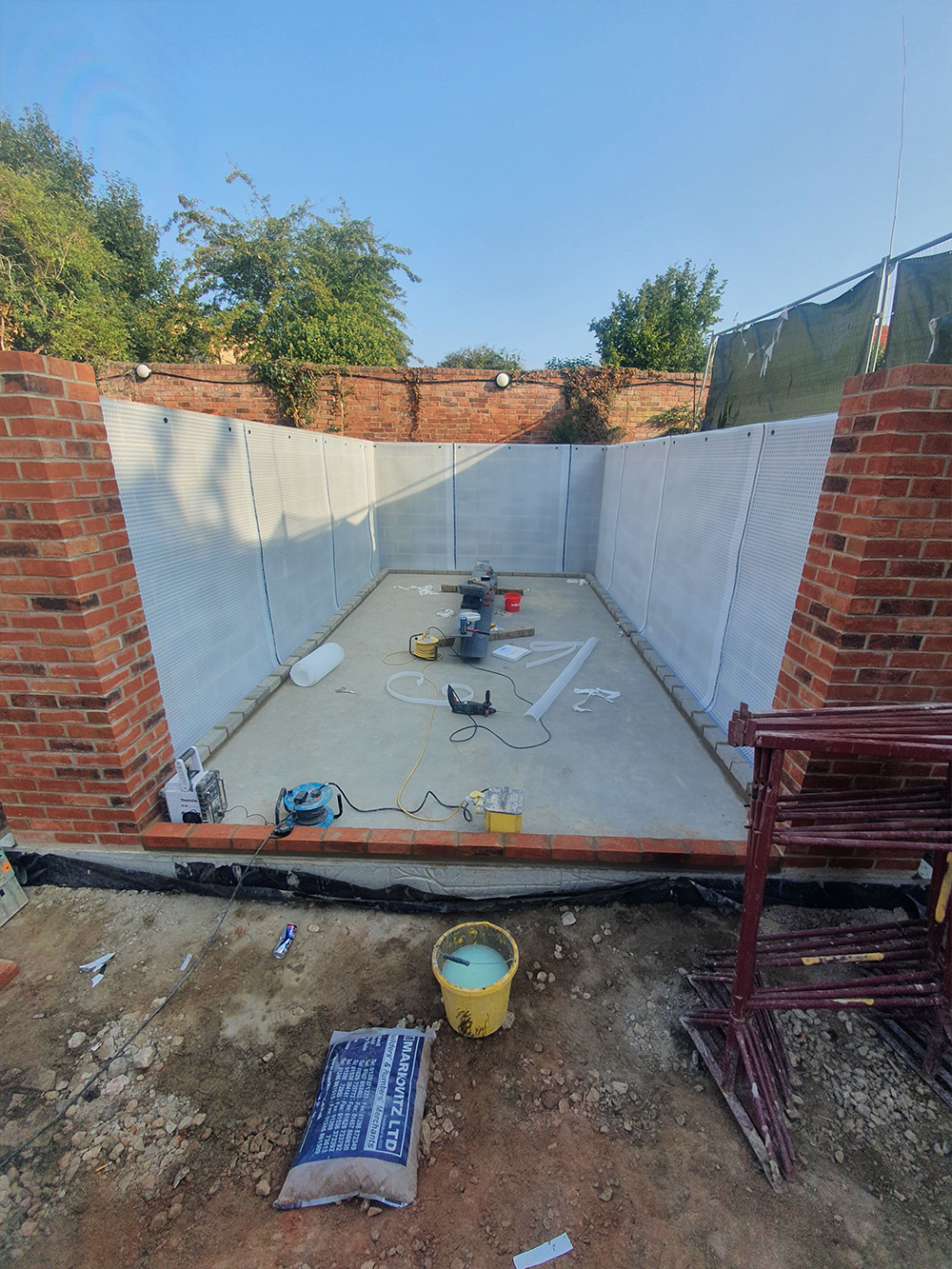 We designed and installed a combined waterproofing system for our client's new build garage in Nottingham to incorporate the following:
Type A: Barrier Protection – external waterproofing
Type C: Drained Protection – internal waterproofing
The NHBC imposed in January 2016 in their revised technical manual 'Chapter 5.4' that a "dual system" (two waterproofing systems) must be incorporated into structures where a Structural Warranty is provided. 
SPECIFICATION:
External: Type A (Barrier) protection – A barrier to water ingress is applied to the outer surface of the structure.
Primary resistance of the structure is provided by Koster bitumen-based waterproofing on the positive side:
Install Delta dual proof pre-applied water proofing membrane prior to the concrete slab being poured.
This is a fully and permanently bonded, composite sheet that does not only waterproof but protects against gases and chemicals. Suitable substrate: concrete blinding, compact hard-core and compact sand.
Install a serviceable drain positioned below the slab level and run around the perimeter of the retaining walls whenever practicable as a method of risk reduction. 
 All concrete dressed with anti-lime coatings.
 Form a 50mm fillet along the foundation toe using repair mortar. This helps shed water away from the structure.
Apply two coats of Koster Deuxan-2C polymer modified thick bitumen compound at 6kg/m².
Once the Deuxan has cured (following day depending on air temperature), mechanically fix Delta-GeoDrain Quattro membrane, with joints overlapped and sealed.
Internal: Type C (Drained) protection – Internal bunded channel
 Secondary protection, which manages any water ingress which occurs as a consequence of an installation defect in the external membrane, is provided by a cavity drain membrane system:
Excavate a hole within the floor ready for the sump chamber.
Install a dual pump station designed to collect ground water.
Mechanically fix 8mm membrane to the external brick cavity side. Wrapping around past the corner junction on the front end of the property, apply and seal using liquid membrane taping the finishing joint.
·         80mm drainage channel to be installed.  This should always be laid level and connected to the sump chamber and include the installation of rodding points at corners.
i) DPC is taped to the floor membrane with Water Seal Tape.
ii) Take the DPC across onto the top of the drainage channel within the cavity.
All concrete dressed with anti-lime coatings.
Install a 20mm floor membrane over the reinforced concrete, in conjunction with cornerstrip. 20mm floor membrane should be covered with a minimum of 75mm cement screed.
If insulating in front of the wall membrane a 10mm gap may be required to prevent interstitial condensation.
Nottingham
Waterproofing With Sump and Pump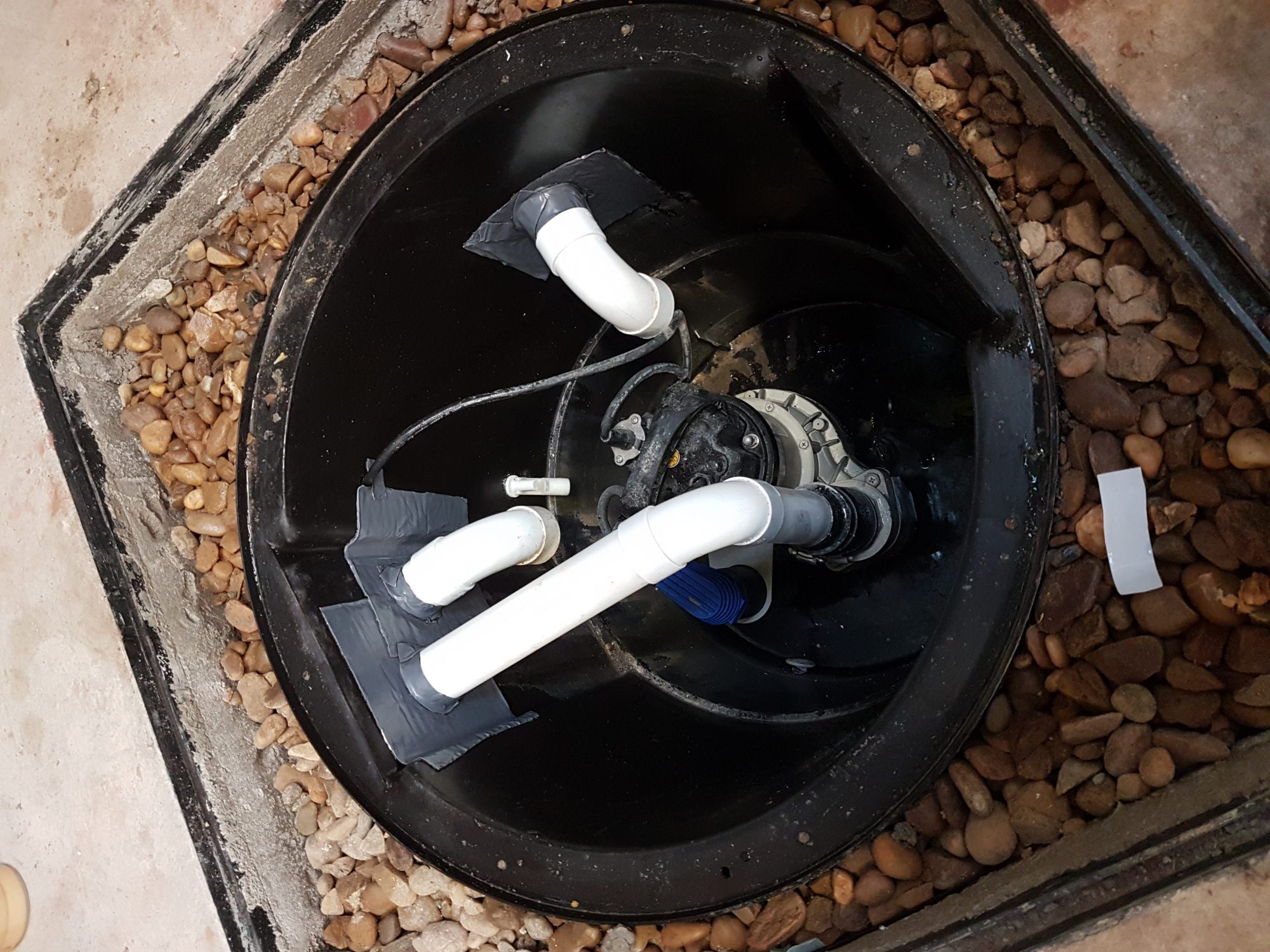 We were called out to offer a solution to a cellar which was damp due a water leak.  There was a visible trickle of water entering the cellar but the local water authority had been unable to trace the source and could not stop it.  Our client needed to use the space for storage so it had to be dry.
We recommended the installation of a retro-fit Type C System incorporating a perforated sump and pump system working every 20 minutes to manage the water ingress.  The walls were then fitted with a membrane, dry-lined and plastered and a membrane was installed on the floor which was finished with timber flooring.  The result for our client is that whilst the leak remains we have been able to control it in order to create the dry space he needed.
Baseford
Nottinghamshire
Pre-Construction Guidance
Our clients wished to convert their basement into a gym and instructed us to proceed with the structural waterproofing design and installation.  We duly liaised with Architect Andrew Bellas who drew up the plans.
However during an early site visit we noticed that previous owners had excavated the soil from beneath the Victorian footings of this three storey property.  We advised our client that this would need to be corrected and the foundations stabilised before any structural waterproofing works could begin.  We contacted Chris Simms, Structural Engineer with Peak Engineers, who drew up the specification to stabilise the foundations.  This involved the installation of a reinforced concrete floor slab and a substantial upstand around the base of the walls.
Once this remedial work had been completed the structural waterproofing element could begin incorporating a retro-fit Type C  Cavity Drained System.  The final stage involved installing the membrane on the walls at which point we contacted Quadrant, Approved Inspectors Building Control, to approve the works.  Our client now has the extra space they needed in the knowledge that the work comes with an industry-recognised guarantee and has been carried out in line with BS8102 (2009) Code of Practice for the Protection of Below Ground Structures Against Water from the Ground.
Derby