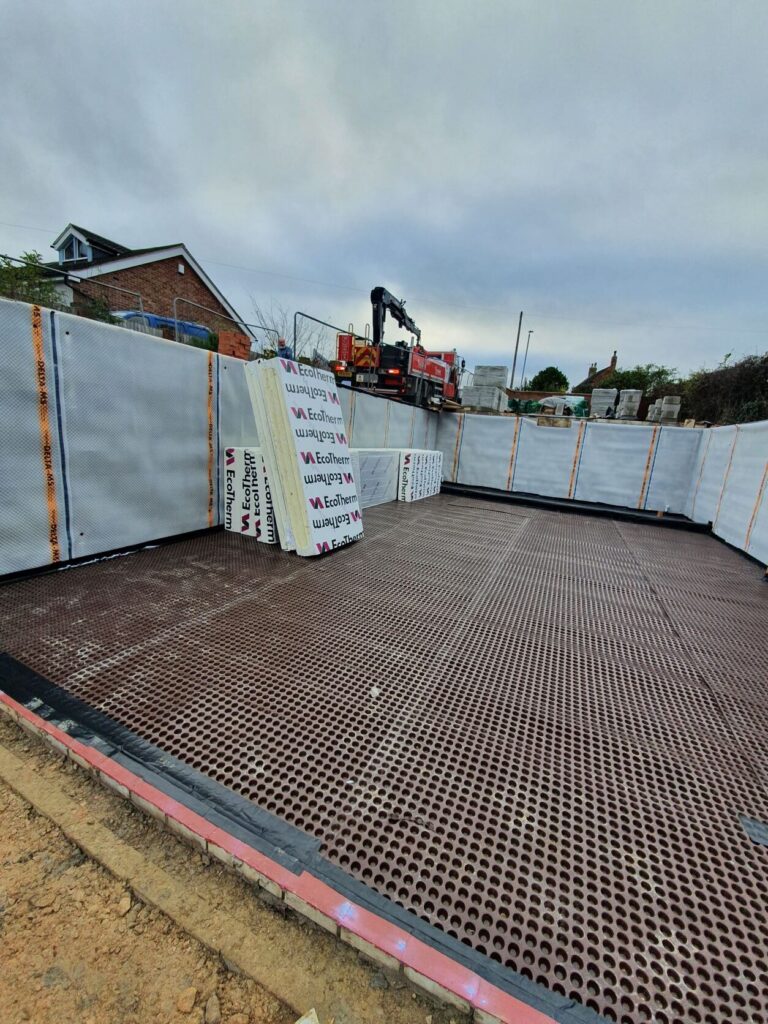 The Damptec technicians finished the waterproofing work at our latest new build project (pictured) on 24th November 2021. Major third party warranty providers such as NHBC, Premier Guarantees and LABC require the installation of combined protection as a fundamental condition of their warranty. They also require that a CSSW qualified waterproofing design specialist be involved at the design stage. We provided the design and specification for the combined Type A and Type B combined waterproofing protection system for this project as required under BS 8102.
Gravity Drainage was installed in a pre-cast chase formed in the concrete. The drainage channel runs through the adjoining retaining walls at the wall/floor junction. As this will need to be maintained we added jetting eyes at changes in direction and also at intervals along straight runs.
The Type A system incorporated barrier protection on the internal walls and floor using Koster Polysil TG500 to minimise the development of salt efflorescence and free lime egress and two coats of Koster NG1 which is a mineral waterproof coating containing crystallising and capillary-plugging agents.
Type C secondary protection was achieved using Delta MS500 (8mm) cavity drain membrane. The new concrete slab was waterproofed by applying Delta MS20 20mm floor membrane. MS20 membrane was used in conjunction with cornerstrip and linked into the 600mm wide DPC. The membrane was then covered with rigid insulation and 75mm of cement based screed.
All joints where flanged sections were located were sealed with waterseal tape. Where studded sections met, waterseal rope was applied. Where services (pipework etc.) protruded through the system at the time of installation a seal was created using either waterseal mastic.
We are registered Delta installers. Delta provides the world's foremost range of products for basement drainage, structural waterproofing and underground wall and floor protection. Depending on the variables associated with a property such as conditions, amount of damp/water ingress, size of area required for waterproofing, Damptec Basement Systems will supply and competently install the required products including waterproofing membrane and drainage systems.
Nottingham