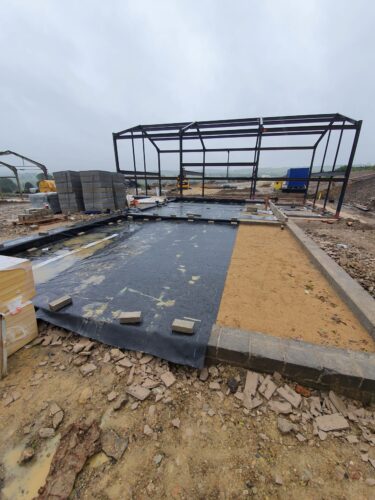 The Damptec team have recently completed work on a new build property in Barnsley pictured above. The property required waterproofing continuity combined with radon barrier protection and the work was carried out in accordance with BS 8485:2015 detailing the requirements for gas protection and BS8102:2009 for the protection of structures against water from the ground.
A dual waterproofing system was applied incorporating Type A and Type C systems to meet the NHBC requirements for a warranty. Delta Deuxan 2C Water Proofing Solution was applied to waterproof the external face of the walls. Koster NB1, a crystallizing cementitious slurry was used to waterproof the internal surface of the walls. Delta geo-drain membrane was added to protect the Deuxan. Above ground a MemTech PRO R1 radon gas barrier was installed, as seen in the photo above, which will eventually lie beneath the concrete slab. This is a three layer low density polyethylene membrane reinforced with a polypropylene grid. A Delta vented mat was placed beneath the radon barrier to provide ventilation beneath the concrete slab.
In line with the requirements of BS 8485:2015 the completed system underwent third party verification and integrity testing. This was carried out by independent consultants Membrane Testing Solutions who provided a certificate of conformance.
Barnsley
South Yorkshire