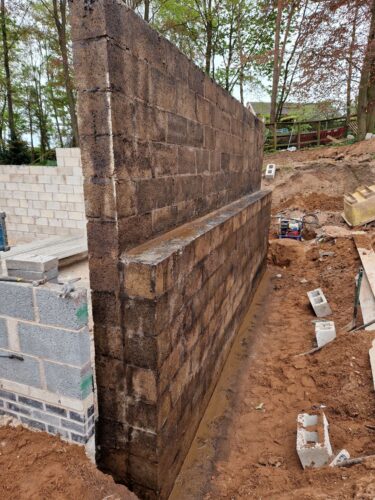 The Damptec team are working on a new build site in Nottinghamshire requiring a combined Type A and Type C waterproofing system to provide barrier and drained protection to conform to the requirements of BS 8102:2009.
The photo shows Geo-Drain Quattro applied over the primary external waterproofing membrane on the external walls.
Warranty providers such as NHBC, Premier Guarantees and LABC require combined protection as a fundamental condition of their warranty. They also require involvement of a CSSW qualified waterproofing design specialist at the design stage. All materials used carry a BBA certificate which is necessary to satisfy the requirements of third party building warranty providers.
External: Type A Barrier protection external waterproofing including:
Application of primer to all surfaces in a spray coat application.
HydroBond 2K-Flex post applied to external earth retaining walls to lap onto the HydroBond 403 Plus.
Installation of Newton 410 Geo-Drain Quattro with geo-textile filter sheet over the primary external waterproofing membrane.
Internal: Type C (Drained) protection
Secondary protection, which manages any water ingress which occurs as a consequence of an installation defect, is provided by a cavity drain membrane system.
Walls: Mechanically fix Newton 508 (8mm) membrane to the internal side of the external cavity taped into the wide DPC at the beam and block junction.
DPM is taped to Newton floor membrane with Newton Waterseal Tape.
Proprietary weep holes at the mortar joints are required to allow drainage.