Approved Contractor Status
Delta Membrane Systems Ltd
Installing a Delta Membrane System offers complete protection to structures from ground water ingress and contaminates. Delta products comply with British Standard 8102:2009, 8485:2015 and 85500:2015 and are BBA certified.
As a Delta Registered Installer we can offer a fully guaranteed installation service and benefit from continued support from Delta's technical team.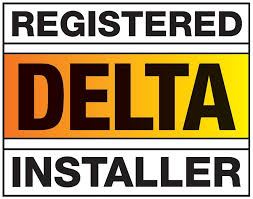 Triton Systems Ltd
We are proud to be registered installers of Triton Systems Ltd. To achieve contractor status inspections are carried out by Triton to ensure contractors meet the required high standards of business practice and workmanship. The vetting process covers surveying techniques, operating codes of practice, back up services and reports on completed works and works in progress. Re-examination and spot checks are made on contractors' work to ensure these high standards are maintained. Our Triton Approved Contractor status is reviewed annually.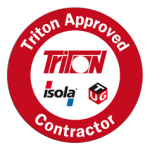 Newton Membrane Authorised Contractor
Damptec Systems Ltd are proud to be Newton Membrane approved basement waterproofing contractors. Established in 1848, John Newton & Company is a market leader in the UK for damp proofing and structural waterproofing solutions, including basement waterproofing and pumping products.
This gives you the reassurance of a high quality service using the best quality professional basement waterproofing service.
Guaranteed Waterproofing Solutions with A Newton Specialist Basement Contractor (NSBC)
Newton Specialist Basement Waterproofing Contractors are an elite group of professional basement waterproofing contractors who work in partnership with John Newton to provide the specifier and their clients with the highest quality products, design and installation available in all aspects of domestic and commercial basement waterproofing.
The NSBC scheme was implemented in 2003 as a response to poor and worthless contractor schemes infiltrating our industry which was resulting in clients losing faith that the waterproofing contractor was able to deliver the dry basement they required. All members of the scheme adhere to very strict membership criteria and they are required to demonstrate quality workmanship resulting in a meaningful scheme where all members provide a level superior technical excellence unsurpassed within the industry.
Becoming a NSBC approved contractor
Criteria for entry into the NSBC network is strict, and members are continually measured and inspected with Newton's Technical Managers attending many site locations to offer support and assistance wherever possible. The absolute pre-requisites for becoming an NSBC are:
All Surveyors must attend and pass the three day School of Waterproofing training and exam.
The Management, Surveyors and Technicians are to attend an initial Newton Training Day and subsequent training modules covering all aspects of structural waterproofing with our systems.
The NSBC member must be an affiliated member of British Structural Waterproofing Association (BSWA) or the Property Care Association (PCA) who both are also very strict on qualification for entry.
A Newton Technical Representative must conduct on-site training with technicians on all practical aspects of Cavity Drain Waterproofing installation. (Continual and ongoing, includes new development)
All NSBC contractors must be able to offer "PI" (Professional Indemnity) on waterproofing design and offer independent insured guarantees for the installation.
We are proud to be John Newton approved basement waterproofing contractors, giving you the extra re-assurance of the quality that this offers.